SAME TIME ZONE FOR COLOMBIA, MEXICO CITY
CLICK HERE:  For Mountain  For Pacific    For Eastern
Ancient Mexika Chronological System
September 28, 2022, 11:30 pm UTC-5
A special time for Creativity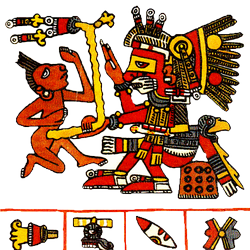 72 minute cycle:
Makuilxochitl
18 minute cycle of
Kiauitl
The Rain: Our teardrops, peaceful and furious at its time. Sensitivity, the concept of Tlalok, Tlal = earth, Ok = a drink = What the earth drinks, to give us life.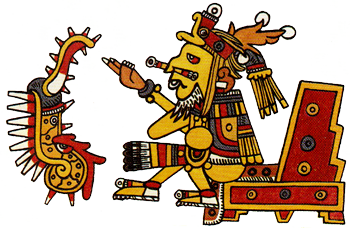 Day/Dia/Tonalli: 9 Zipaktli
The Crocodile: Beginning of evolution of all beings. The Initiator, number One even with no number Two.
Iluikapotzintli:
Day Companion
Xochipilli as Tonakatekutli and Tonakaziuatl
The Flower Child that guides photosynthesis through the Male Energies and Female Energies of the Sun Rays to give life.
---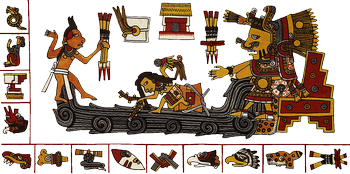 Trecena: Thirteen Day Cycle - Ze Akatl
The Reed, bamboo: Our internal self. Conduit of heat and energy. Represents intelligence, observation, analysis, memory and the sub-conscious. Through the subconscious he can be all places and see all things, even with his eyes bandaged. Akatl can unite the collective intentions to make even nature fulfill its mission.
governed by
Chalchiuitlikue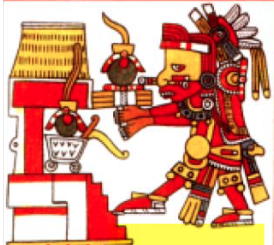 Youalpotzintli:
Night Companion
Piltzintekutli
The Guide that Gives Color to Life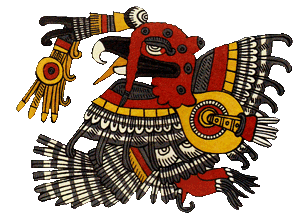 In Totopotzintli:
Winged Companion
Chalchiutotolin
The Jade Turkey
---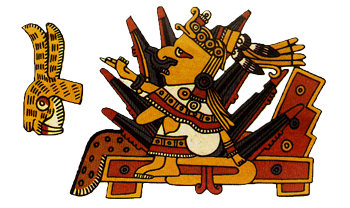 Year:
10 Tochtli
The Rabbit: Our multiplicity and taste perception; the fertility of the earth and all living beings by the lunar influence; very independent, yet always giving to and providing of others
Veintena:
Twenty Day Cycle
Ochpaniztli
the sweeping of our lives by our brother E'ekatl, the wind
Javascript is disabled.