OUR WEBSITE IS CURRENTLY BEING REVISED TO FOLLOW WEB ACCESSIBILITY GUIDELINES. IF YOU HAVE ANY QUESTIONS, CONCERNS OR NEED ASSISTANCE WITH THE WEBSITE, EMAIL US AT
---
S&H = Shipping and Handling is $8.00
DUE TO THE NATURE OF OUR WORK WHICH INCLUDES TRAVEL, THE ORDERS MAY SOMETIMES TAKE SEVERAL WEEKS TO BE FULFILLED
Waiting for PayPal...
Validating payment information...
Waiting for PayPal...
---
Astronomical and Calendrical Map with Cosmic Clock Poster
Size – 24×36 in.
$25.00 + S&H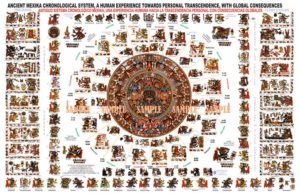 Printed on high quality photo paper with fade resistant ink. Shipped in a packaging tube to prevent damage and bending. Ready to be framed and displayed.
---
TONALMACHIOTL- Explains the meaning of the symbols on the face of the calendar

 

 
Size – 11 x 17 in.
 

$10 + S&H

---
 TONALAMATL BOOKLET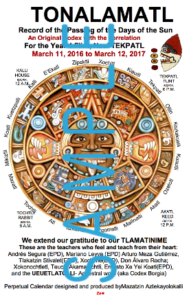 This almanak is for your daily consultation.  In it we want to clarify by means of the ancient language, NAUATLATOLLI, (harmonious speaking), and the oral tradition from pre-Hispanic Mexico many of the concepts of our grandfathers that to this date have been incomprehensible to Eurocentric linear thought.  Now, we will give you a brief introduction to the elements in nature that influence each of the 20 days of the ancient Mexican calendar system.  So, beloved reader, we leave in your hands, just one more of the multitude of beautiful and flowery metaphors of what was, and is, the great culture of the ancient ANAUAK.   These concepts are now being integrated into the way of life of many…interested in having a re-introduction to their "Cosmic Identity and Responsibility".  For, regardless of neither nationality nor place of origin, this calendar is for you…it is a Human Experience towards Personal Transcendence, use it Daily!
 This book explains the meaning of all the days and to find your birthday. Available either in English or Spanish. 

BLACK-WHITE                   COLOR

            $10.00 + S&H          $15.00 + S&H
---
DAY SIGN POSTER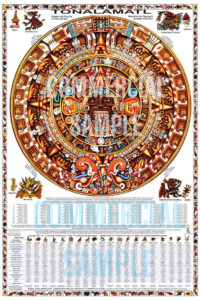 Size – 17 x 22 in.
 $25 + S&H
---
A correlation of one's birth date and time to that specific piece of time written in the ancient painted books (Códices) in two separate 8 1/2 X 11 sheets. One has all the information in English or Spanish and the other has the original images from the codices that correspond to the written information. So as you are reading it you will become familiarized with the archetype that represents it. This is not just a horoscope of good or bad luck, rather what this will show is the potential and quality that was present at the time of birth and to which one has access to.
The Tonalamatl Cosmic Birth codex are available either in English or Spanish  
$65+ S&H
The codex comes in 3 parts:

1.) A written record
(As shown above)
2.)Original images from the Ancient codices
(As shown above)
3.)A follow up consultation

---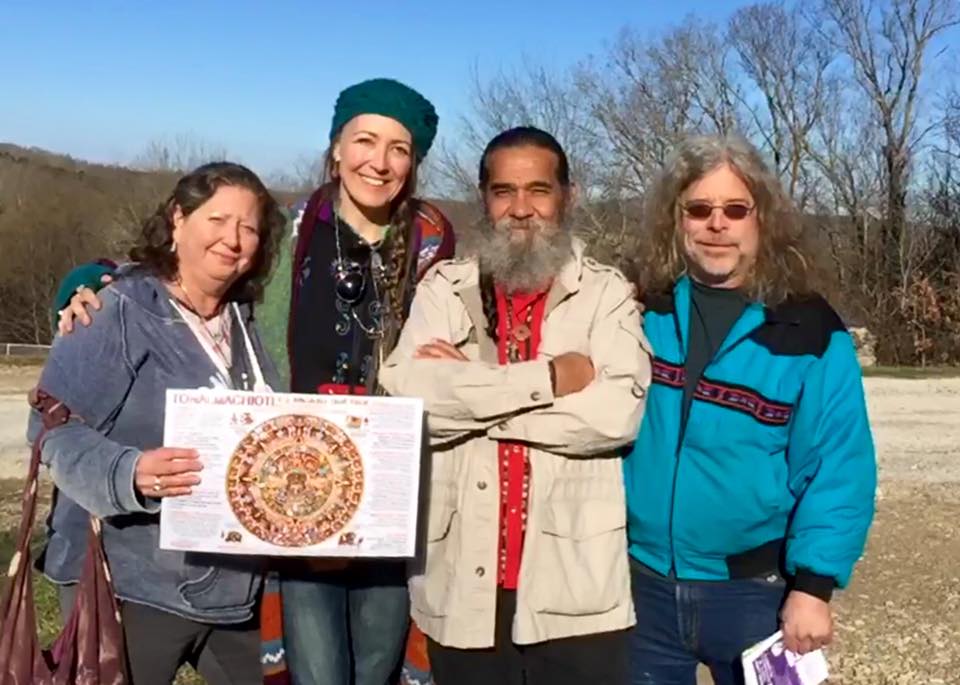 ---